Adobe Flash is one of the best multimedia authoring tools ever developed. It is an exciting time to be a Flash developer. Adobe has taken big steps in making the Flash platform available on as many devices as possible.
This course is for beginner Flash developers who want to use their knowledge of Flash and ActionScript to develop AIR Android Applications. Currently, it is specifically focuses on the Android platform, but many of the topics and examples can be used to develop for any AIR mobile platform.
-DAY01: Introduction to workshop
-Introduction to Apps Design
-Getting Started With Flash
-Developing Your First Application
-Designing Your Application
-DAY02: Handling Interactions
-Deploying Your Application
Date :
22 & 23 APRIL 2017
Time :
9.00am – 5.00pm
Venue :
KOKUIS ACADEMY TRAINING CENTER
Contact us at :Cik Marzieah (kokuis.training@gmail.com)
HP / WhatsApp: 017-3826193
Mobiile Apps Development using Adobe Flash Training
BYOL – Bring your own Laptop with RAM capacity >4GB. Install Adobe Flash / Animate
*PROMO FEES FOR FEB 2017 ONLY (Inclusive GST)
Fees – payment queries 0129034614
PAYMENT (Transfer or Bank-In)
·

Maybank Account Number: 562834627354 – Koperasi Kolej Universiti Islam Antarabangsa Selangor Bhd
---
Our previous apps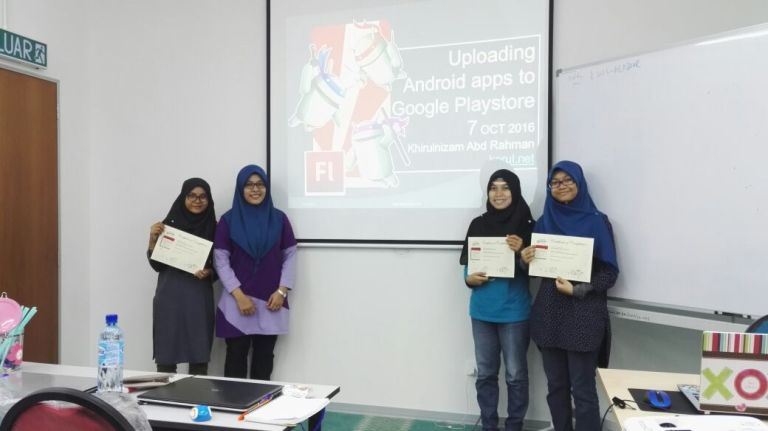 Participants from FTE,UTHM with the Flash4Mobile trainer (Oct 2016).